ROCKWOOD ROCKHOUND NEWS for NOVEMBER 1999

ELECTION TIME AGAIN!
Once again, it is time to elect new officers. Roy Cottrell and Larry Toenjes have agreed to serve on the nominating committee. At the present time, we are looking for people to fill the positions of Vice President, Treasurer and Secretary. Please think about serving in one of these positions and contact either
Roy (849-1424) or Larry (394-1085) a call. The positions of Coordinator, Hospitality and Historian also need Chairpersons. Perhaps one of these openings might fit your particular talents.

COMMENTS, ETC
Because of Thanksgiving and events at the school, we have had to change our meeting date to November 12, 1999.

We still need people to work at the the Science Center during time that the Association has the Rock, Mineral and Fossil display. This will run between Nov. 12-21, 1999. Contact Bob Morse at 462-4423 if you can find an extra couple of hours in your busy lives. While down there, go see the new Omnimax Show on Egypt. It is great!

Bob Morse has been doing an excellent job giving programs to school children--six in Rockwood and five in Troy!

Comments from the Club President

This past weekend was interesting one for our club, with regular meeting Friday evening, and a field trip Saturday morning. We had fourteen members, eight guests, and our speaker, Dr. Fuller present. Those that missed his presentation missed an excellent program. One of the things that he stressed was that northeast Syria was in the throes of a drought of Biblical proportions. The river he has shown us before, the one that was to have flooded him out was down nine feet from last year. They had no rain last winter and they do not expect any this winter, and this drought may last for another five or more years.
We had modest success with the sending out of Post Cards and I believe we should use this method of advertising again. I sent out about a hundred and seventy cards and we had eight guests present because the cards. To some this might not sound like much but earlier this year we paid for a newspaper ad and got no responses.
Saturday morning was a beautiful sunny, breezy, rather cool morning to have a filed trip out to the Mississippi Chain of Rocks gravel bar but nine members and two former club members showed up for an interesting, and fun hunt. Some of the items that were found was red jasper, various colors of chalcedony, Coal, petrified wood, fossils, Lake Superior Agates, and other assorted rocks. Also we met several members from other clubs. Even though it was cool almost cold morning we had a good time and those not there missed a good trip. While the river is down we might try that trip again. Thanks should be given Andy for scouting the location out and writing out a good set of directions.
I would like to thank everyone who helped in setting up the items for our meeting, and for the people that who helped in the cleanup. It makes it a lot easier when everyone chips in and helps.
Election of officers is again at hand and if asked to fill an office please thoughtfully consider accepting that office. This year we will have to replace our Vice-President, Secretary, and Treasurer.
Hope to see you all at our next meeting on November 12th'


Ten Ways to Get Rid of Unwanted Rocks
1. Fill potholes in the driveway.
2. Throw them at door-to-door salesmen.
3. Donate them in Show Grab Bags or mini-mine.
4. Put them in your tumbler with a double dose of grit.
5. Slip them into a competitors exhibit when they are not looking.
6. Throw them over the fence into your neighbors rock garden.
7. Label them "This gem material issued by Brinks" and leave them in the driveway.
8. Take them back to where you got them for other collectors to pick up.
9. Dump them at one of those "Hard Fill Wanted" sites.
10. Don't take them home in the first place

| | | |
| --- | --- | --- |
| | Rockhounding the Internet | |
| | by David Miller – St. Louis Mineral & | Gem Society |
SCHOOL'S IN SESSION! And this month I'd like to deal with a valuable resource that will continue our hobby. That is our youth. This month my column is geared towards our own "Pebble Pups." Even though this month is dedicated to kids, anyone can have fun with this site as there is content for all! I must admit this web site is a great resource not only for our children, but and an excellent resource for parents and instructors as well. Might I suggest that parents and instructors please check out the icon titled "Future Rockhounds" for information and application for your group, since our club is AFMS affiliated.

The Pebble Pups Area of this web site is concentrated into 6 primary resource areas with several links below each of these. Due to the extent of information, I will highlight each area and note which links l feel are the best resource, but I encourage you to check them all out!

· Links to Sites of Interest for Youth
Boy Scouts of America Geology Merit Badge- I wish I had known about this one when I was a scout, I definitely would have pursued it. This features a 13 part requirement list which incorporates earth materials, processes, history, geology and people, and careers in geology.

· Growing Crystals - Here there are a lot of exciting growing experiments to do. But I must caution that adults should supervise these experiments and read all directions carefully, please. The 2 sites I like the best are:
Growing Crystals at Home- this site lists some 23 recipe growing experiments with tips, safety considerations, where to get chemicals, biographies, pictures, and trouble-shooting
Wizards Cove- this site highlights National Chemistry Week, crystal growing and crystal contests

· Dinosaur Links - For those of you who love Dinosaurs, this is definitely for you. The 2 sites I recommend are:
Dinosaur Illustrations- an A-Z picture database of dinosaurs locatable on the internet. Zoom Dinosaurs- entails a giant online hypertext book on all dinosaurs w/pictures, links, etc.

· Fun with Science - This site deals with science projects that are geared for grades 1-12 but I believe some flexibility with age should be allowed. There are 3 sites that I recommend:
Bill Nye the Science Guy.' Online Labs - this one is just sheer fun with animation and music. Chemistry Experiments you can do at home- lists 28 simple experiments done in the home. Reeko ~ Mad Scientist Lab- this is a very colorful web site that has several experiments ranging from very easy to hard. It requires a lot of interaction with the user and is very informative.

· Links to Resources and Homework Helpers - This area was the hardest to decide on due to the excellent content. But here are the links I've elected: Compton - Online Encyclopedia- can't say enough, it's great! Geologylink~ Home Page- loaded with data resources too many to mention.
B.J.'s Homework Helper- This site was created by a 12 year old and his dad, it carries some 570 links of useful information in all, and has won several internet site awards for it's helpful content!
Honorable Mentions in this category have to go to: The Nine Planets: A Multimedia Tour of the Solar System, USGS Learning Web and Volcano World due to their interesting content.

· Ask an Expert - Here are several resources to those questions you can't seem to get answers to. You can ask a Geologist, Scientist, or Volcanologist about Geophysics, Marine Instrumentation, Volcanoes, Igneous Rocks, Gems, Minerals, Ores, Sediments and Sedimentary Rock, Earthquakes and Seismology.

With all the energy kids have, this site ought to keep not only them, but their parents and instructors quite busy exploring all the possibilities. The web address is: http://www, amfed.org/kids.htm Have fun and see you next month.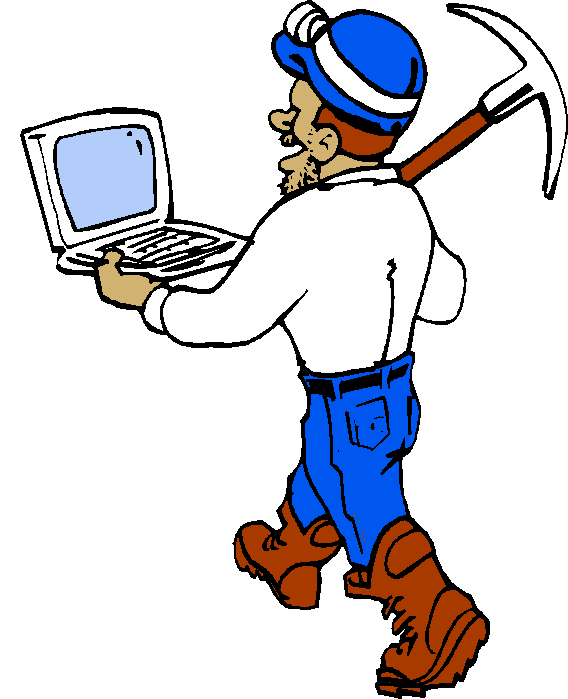 News From Other Clubs
EAT THIS ROCK...IT'S GOOD FOR YOU
Crocodiles swallow stones to correct an error that nature made in designing the big lizard. They're unstable in the water without artificial ballast. Every one of some 100 African crocodiles dissected by a scientist had rocks in its belly, a phenomenon never adequately explained until the scientist completed careful measurements and weightings.
The stone loads ranged from one to two pounds in juveniles, to seven pounds in fifteen foot long oldsters. These weights, lying low in the forward-placed stomach, nicely counter-balanced tail heaviness and rolling, two defects seen in infant crocodiles, which have to hang in the water at a slant and make limb movements to keep from turning over.
Properly stoned, the maturing crocodile can glide level and steady at the surface with only nostrils, eyes and a few back scales showing. A ballasted crocodile is perhaps the only creature, besides man, that artificially alters its design to fit the environment.
Via THE GEODE February 1999
Rock Lore
Hints
If you want to bring out the color and banding of Lake Superior Agates of Lake Superior Agates without tumbling them, this system seems to work quite will. First, soak the stones in heavy mineral oil, then rub them with a course cloth, rubbing in as much oil as you can. Then place the stones on a cookie sheet, in a 200 degree oven for about 20 minutes. Shut off oven and cool slowly.
Via: Crystal Cluster, 9/98 - The Rock Collector, 3/99 - The Flint Gemstones, 8/99 & Pica Pick, 9/99
Gem City News

Some Surefire Signs You're a Rockhound
By M. Albright, R Bush, D Imel, B. Keller, and D. Russell
1. You can pronounce the word "molybdenite" correctly on the first try.
2. You think the primary function for road cuts is tourist attractions.
3. You own more pieces of quartz than you do underwear.
4. You associate the word "hard" with the value on the Mohs scale instead of"work". 5. The rock pile in your garage is taller than you are.
6. You have a strong opinion as to whether pieces of concrete are properly called rocks.
via Bob's Rock Shop on the internet

Have you ever imagined a world without rocks?
Would probably be really really wet .....

TEN COMMANDMENTS OF USING ACID

1. Never add water to acid.
2. Never use acid with bleach.
3. Always use acids in well ventilated areas.
4. Always use inferior specimens for experimentation.
5. Always wear protective clothing and use proper equipment.
6. Always use and store acids/ carefully (well-marked and out of reach of kids).
7. Always treat a spill as if it is the worst acid you are using.
8. Always neutralize acid solutions before disposing of them.
9. Always practice common sense. Read directions before using
via Achates

WHAT ARE VOLUNTEERS?

Volunteers are like Ford-
They have a better idea.

Volunteers are like Coke.
They're the real thing.

Volunteers are like Pan Am,
They make the going great.

Volunteers are like Dial Soap,
They care more, don't you wish everybody did?

Volunteers are like VO-5 Hair Spray,
They hold up in all kinds of weather.

Volunteers are like Hallmark Cards,
They care enough to give the very best.

Volunteers are like Standard Oil.
You expect more and you get it.

BUT MOST OF ALL
- Volunteers are like Frosted Flakes,
They're GRRRRRRRRRRREAT!!!!!
from Hourglass News,Via SCFMS newsletter,et al

Rockwood Gem and Mineral Society Minutes October 22, 1999

The meeting was called to order at 7:45pm by Bob Morse, President. Minutes of the previous meeting were read by secretary, Dianne Larson. Andy Larson gave the following treasurer's report: checking $1412.89, savings $162.85, CD $1992.80 petty cash $7.85. The total: $3576.39

The issue of field trips was discussed. A trip is planned for tomorrow at the Chain of Rocks bridge to look for Lake Superior Agate, Jasper, Quartz etc. We will meet there at 9:30 am. There will be a trip to Funks Mineral Museum in Illinois on November 13th if there is sufficient interest. This is a wonderful collection along with a tour of a nearby home, but it is a 3 hour drive and will be a very full day for those interested. Contact Andy if you are interested.

Bob Morse needs a nominating committee to develop a slate of candidates for next month's election of officers. Let him know if you are willing to serve as such or if you are willing to serve as an officer.

The St. Louis Gem and Mineral Society Show, is in Fenton on Nov. 12-14.

There will be a rock display at the science Museum, November 12-21 and volunteers are needed to field questions for the public. This is a pleasant opportunity to share this hobby with inquirers. Contact Bob Morse if you can help out for a morning or afternoon slot any of these days.

Ten members were present and seven guests at our meeting. Door prizes were won by Peggy Nuske and Jeff Griffin. Refreshments were served at 8pm as the formal business meeting concluded.

Our speaker for the evening was Mike Fuller, sharing another adventure in the process of discovering the past at Tel Tuneinir. Mike also mentioned that he is offering a trip March 10-20 to southern Spain. This will be composed of students, professors and others interested in viewing major museums in Cordoba, Cadiz, Granada, Madrid, Sevilla, and Toledo. The cost is $1625. Contact Mike for further information at his voice mail 595-4414. Another note of interest, Mike is no longer under the umbrella of the community college with his dig. He has formed the St. Louis Archeological Expeditions Inc., to cover this project due to lack of interest on the part of the college at this time. If you wish to donate to this project a check should be made to this new organization.
You may contact Mike with any further questions and he will be glad to accommodate you.

Respectfully submitted by Dianne Larson secretary