ROCKWOOD ROCKHOUND NEWS for OCTOBER 1999


Our Special Guest
Dr. Michael Fuller head of the department of archeology from Florissant Valley Community College, Will be our October speaker for the meeting of the Rockwood Gem and Mineral Society. The meeting will be held at Parkway Central Middle School in Room 705 at 471 North Woodsmill Rd on Friday October 22, 1999. Please see map. Time will be 7:30 PM.
Guests are welcome to all meetings. We have had Dr Fuller speak for us the past several years on his dig at Tuneinir (Syria). He and his wife Neathery have worked this dig for the past twelve years and have found some very important pieces of history both of religious and secular interest.
Our club has made regular donations towards this project as well many of our members, these donations are tax deductible. If you would like to join us and hear first hand what Mike has been accomplishing over this past summer please set this date on your calendar.
Interested in finding out more about Mike's project. Visit his Website!
Contributions are welcome! Make checks payable to the St. Louis Archaeological Expeditions, Inc. Mail them to:
13530 Clayton
St. Louis, MO 63141
There is only a year or two left before the site will be under water and they are learning so much. The more help they can afford to acquire, the more information they will be able to save before the time runs out. As in everything else, it takes funds to do this. If you would like to help we will be collecting for Mike's project at our meeting or you can mail your help to the college. Thank you for visiting our Website and please come visit us in person on October 22.

We need members who would be willing to man the booths at the Science Center during time that the Association as the Rock, Mineral and Fossil display. his will run between Nov. 12-21, 1999. call Bob Morse at 462-4423 or sign up at our Oct. meeting.

Please notice that we have a new column,"Rockhounding the Internet" in our monthly bulletin. David Miller answered our request for good web sites by volunteering to write a monthly column. Thank you, David!

Meeting Refreshments: The Toenjes & Bob Morse
| | | |
| --- | --- | --- |
| | Rockhounding the Internet | |
| | by David Miller – St. Louis Mineral & | Gem Society |
This month I'd like to introduce you to a new column that deals with different sites on the interact that relate to our hobby. I figured that since I spent a lot of time in the interact, I might as well share with others some of the interesting sites I've found. My intent is to help fill some of the voids we have in our resources for rockhounding that would not otherwise be readily available locally or cheaply.

This month my concentration is on one web site in particular. This web site I use almost exclusively in my research on the minerals I have in my collection, and ones I'm considering buying. It is for those of us who have not found a mineral database that fits our needs. Or for those who may have wanted to get a "Dana's New Mineralogy" or a "Strunz System of Mineralogy" but could not afford one or didn't want to put up with the over-run of errors.

Well, here's a solution I've found. It is a web site titled appropriately "Mineralogy Database". It's a database that has over 5,000 web pages of mineral data and 4,102 individual mineral species descriptions to it's credit! But there is more to it than that! Here's a look at the contents:
· Mineral definitions.
· X-Ray Powder Diffraction - mineral species by intensity and D spacing.
· Chemical Composition - mineral species by chemical elements.
· New Dana Classification - mineral species by the New Dana system.
· Stmnz Classification - mineral species by Smmz system.
· Determinative Mineralogy - mineral species by physical and optical properties.
· Alphabetical Listing - mineral species name origins and synonyms.
· Mineral Pictures - from the authors own mineral collection.
· Other Links - other WWW sites with mineral data.

As you can see already, there is a lot of information packed into this one site. But I have to admit that I really like two areas of this site. The first is the section on Crystallography. Not only does it go through 32 classes of symmetry and 230 space groups, but it has an on-line class of this subject in basic concept, Introduction to Crystallography and Mineral Class Systems, by Mark and Darcy Howard who are geologists in their own right. I have printed off this entire class and am currently studying it at my leisure. The other part I like is the Alphabetical Listing. I have utilized it for each and every mineral that I own. The page incorporates everything in the contents except a picture, compressed into about a page and a half, regarding the mineral you are researching. I print these pages off so that I also have a quick reference to the minerals that I own in my collection. And for those of you who have difficulty saying some of those mineral names, the author is incorporating an audible pronunciation guide on each mineral page!

If I had to rate this Web site with a traditional ratings system, I would have to give it the * * * * *
excellent rating. No where in my internet travels have I found anything comparable to the FREE information accessible in this site. Try it, enjoy it. I'm sure you will find it a useful and continued resource as I have.
Oh yeah, by the way, here is the address: http://web.wt.net/~daba/Mineral

Happy hunting and see you next month!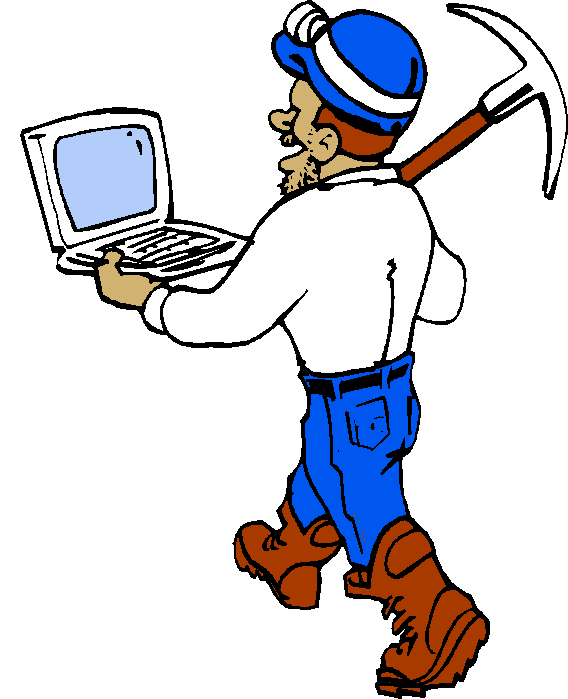 News From Other Clubs
Rockhounds Live Longer

A recent study has concluded that people who engage in the "rockhound" hobby live, on an average,more than three years longer than non-rockhounds. The study concluded that there was no way to describe the results to any particular cause. Of course, sustained mental activity, frequent exercise while hunting and working with stones, the relaxation of frequent social intercourse, and the friendly support of their peers are all possible factors. The study showed a further breakdown between the three major areas of the hobby-mineral study, fossil study, and rock and gem collection and working. Of the three, fossil collectors actually live the longest--not, as some wag suggested, because they spend most of their time among their peers. The mineral collectors were the next long-lived. The shortest life span was found among the rock and gem people. Some attribute this to the group tendency to lick rock samples of unknown composition..

Among specific activities of the hobby, the life-spans seemed to fall in the following order (from longest to shortest): Fossil identification, fossil cleaning and preparation, carving, slabbers, cabochon making, silversmithing, riceting. The statistical sample studied was too small to arrive at any conclusions from this list, but it is noted that those activities that may make dust, seem to fall nearer to the bottom of the list..
Via MAPS Digest 5/93
Rock Pickings

MILLION DOLLAR FLOOR

If you are traveling in the vicinity of Kinnewick, Washington, take time to visit "Maxey's Trailer Court". The floor in their office is valued at one million (1,000,000) dollars, says D. L. Hackedown, owner. The one thousand square foot floor is made of polished petrified wood and was designed and built by the late Gordon Maxey, who completed the floor in 1858. It took a life time to accumulate and prepare the materials.

Mr. Maxmy went through more than $5,000 worth of diamond tipped saw blades cutting the wood. It took him eight months to install the floor, after it had been ground, sanded and polished. The managers of the court, Mr. and Mrs. Arthur Campton, say the floor draws visitors from as far as Europe, while most people in the area do not know it exists.
Via Michigan Gem News January 1989
Rock Lore


Diamond still a girl's best friend - at least 43% of the time ......
Of 1,019 Women polled by the Opinion Research Corporation International, 43% chose diamond as their favorite gem. Other gems earning honorable mention include emerald at 17%, sapphire at 16%, ruby at
10%, pearl at 9%, jade at 3%, and garnet squeaking in at 2%.
Clarkson Jewlers

OXALIC ACID LIGHTENS TIGER EYE as well as cleaning iron oxide off quartz and the like. Use 1 tablespoon per cup of water: OXALIC ACID IS A POISON, so do NOT Use cooking utensils if you decide to boil to speedup the reaation. A bit of aluminun foil or nail will speed things up. Green water means it's working. It's best to work with a finished, but unpolished cab.
Petrograph via Breccia et. al.
AFS
"I 'M A SENIOR CITIZEN"
I'm smiling all the time..because I can't hear a word you're saying.
I's so cared for..Long term care, eye care, private care and dental care.
I'm not grouchy..I just don't like traffic, waiting, crowds, children & politicians.
I'm supporting all movements now..by eating bran, prunes and raisins.
I 'm a Senior Citizen and I think I am having the time of my life.
via Kansas NARFE Newsletter 1/97
Scoop Dick Goodnough Editor
Quarry Quips 9/97
GEM CITY ROCK NEWS


Minutes of the Rockwood Rockhound Society, September 24, 1999

The meeting was called to order at 7:36 pm by President Bob Morse. There were seven members present and two visitors.

The Secretary's report was read and accepted.

The Treasurers report was read and accepted.

Bob gave a report on the show that just finished at Queeny Park. He said it had a better rate of attendance than previous shows, 1,552 people attended. Bob will be in charge of the show next year. Claudia reported that because we meet at the Parkway School, the November meeting will need to be changed to November 12nd, and the April meeting to April 12th, so as not to conflict with school activities.

Refreshments will be furnished by the Toenges and Bob Morse.

Field Trips: Since the river is down; it was suggested the Gravel Bar at the Chain of Rocks would be a good place for a field trip. Suggested time was October 23. Funks Museum was suggested for the 3rd week-end in November. It is located near Springfield, IL. IN order to have better attendance at our meetings, Bob Morse has. had cards printed. He suggested sending cards out two weeks before the meeting.

Peggy Nuske (one of our visitors) suggested she put an article in the Parkway School paper announcing our meetings, and e-mail some interested students. November 12 thru 21st the association is sponsering displays at the Science Center. Volunteers will be needed to take care of the booths. David Miller gave us a report on establishing the Mississippi Valley Chapter of Friends of Mineralogy Inc. If interested call Larry Nuelle at (573) 364-3799.

Art Miller won the door prize.

Meeting was adjourned at 8:10 pm. Refreshments were enjoyed.
Art Miller gave a very interesting slide show on his extensive trip to Alaska.

Respectfully submitted,
Helen Heitland
Secretary pro tem