ROCKWOOD ROCKHOUND NEWS for APRIL 2000
April Meeting
Because of Good Friday, the April meeting will be held at Daniel Boone Library Iocated at 300 Clarkson Rd. Ballwin. Mo. 63011 on April 21st.
Our speaker will be Professor Robert Dymek from Washington University who will talk to us about the geology of our National Parks. With summer vacations coming up, this should be of great interest to us.

Comments, Etc.
Time for a change?
The suggestion has made that we consider changing our meeting date from the fourth Friday of the month because we find that we are frequently having to change our meetings because of holidays. This happens in April, May, and November this year. At the last meeting we voted to change our meeting date to the third Friday of the month and finish out the year meeting at Daniel Boone Library.
We need to think about where we would like to meet next year. Please give us some input on your feelings about this.

From the Grapevine
We are quite sorry to report that Alan Parrott was hospitalized with an apparent heart attack on March 27th. After spending three days in the hospital, it was discovered that his problem was caused by an irregular heartbeat. He is now under medication, home and back to Work. We pray that he takes care of himself and will have a full recovery.

Bill Miller will be going into the hospital this month to have knee surgery. Once again, our prayers are with you, Bill.

| | | |
| --- | --- | --- |
| | Rockhounding the Internet | |
| | by David Miller – St. Louis Mineral & | Gem Society |
This month I thought we would take a look at an aspect of our hobby that is very unique in itself. Some people I know of collect specimens "only " in this area of interest. Most mineral specimens are outstanding in their display of a wide variety of colors. And so I introduce:

"The Chameleons of the Mineral World "

The history of this area of our hobby didn't get it's real start until the early 1930's. It is here that Thomas S. Warren, President of Ultra-violet Products, Inc., and manufacturer of medical UV lamps, saw a reaction of certain minerals to "black light." Realizing the need and value of portable equipment, due to prospectors and miners wanting a light to take with them into the mines for mineral identification, he invented the first portable UV lamps used in the field.

Nearing the end of 1942, World War II was putting a strain on our diplomatic relations. China elected to break it's ties with the United States. In doing so we lost our primary resource for Tungsten that is used in the military for amour plating, large artillery and ship guns. Due to the fact that the U.S. now needed new supplies of this rare resource, so began the "Tungsten/Uranium Rush " of the 1940's. Tungsten (primary mineral: sheelite) would show an intense blue glow under UV light. Because of this it became very easy to locate in old mines and dump sites. Soon everyone was jumping on the financial bandwagon. And eventually the need arose for a comprehensive guidebook for the identification of different fluorescent minerals.

In my opinion, here is what has eventually become the most comprehensive manual I have been able to locate on fluorescent minerals: "The Henkle Glossary of Fluorescent Minerals " by Dr. Gerhard Henkle, Journal of the Fluorescent Mineral Society, vol. 15 (1988-89). It's a 91 page manual similar to "Fleisher's Glossary of Mineral Species" and is very thorough. It is currently still available.

In order to get a very basic understanding of fluorescent mineral collecting; there are a few things one must become familiar with:
Fluorescence
- the visible colored light emitted by a mineral when excited by radiant energy.
Phosphorescence
- the visible colored light emitted by a mineral after the activating energy is turned off
Short-wave UV
- 2000 – 3000 angstrom units (NEVER look into short-wave UV, it will burn your eyes)
Long wave UV
- 3000 – 4000 angstrom units
White light
- 4000 – 7000 angstrom units (the visible reflected light we normally see)
Some of the more common colors of fluorescent minerals are red, brown, orange, yellow green, blue, and white. The majority of the minerals fluoresce in the short-wave band. A best bet on the wallet is to invest in a short-wave lamp (range is 2537-3660 A) which will give you access to minerals that fluoresce in either wavelength. But also note that there are some mineral species that will fluoresce in both the short and long wavelengths and display a different color in each.
Although there are several localities around the world that have fluorescent minerals, none are as well known as these 2 sites:
Franklin and Sterling Hill, NJ: this area has been known since the early 1800's. It is known as the "locale with the largest variety " of minerals in the world, numbering 340. And it has a little more than 80 minerals that will fluoresce. The most notable fluorescent minerals were at the "Parker shaft " at Franklin, having a 5-color combination.
Mont Saint-Hilaire, Quebec, Canada: this area has been known since the early 1960's. It is an area comprising only 2-mi. in diameter. It is known for some 40+ minerals that fluoresce.
For those of you who are interested in more information on fluorescent minerals I refer you to these web sites: http://www.uvminerals.com
http://members.home.net/jtozour/index.html
http://www.fluorescentminerals.com/
http://www.mjt.nu/fluoresce.htm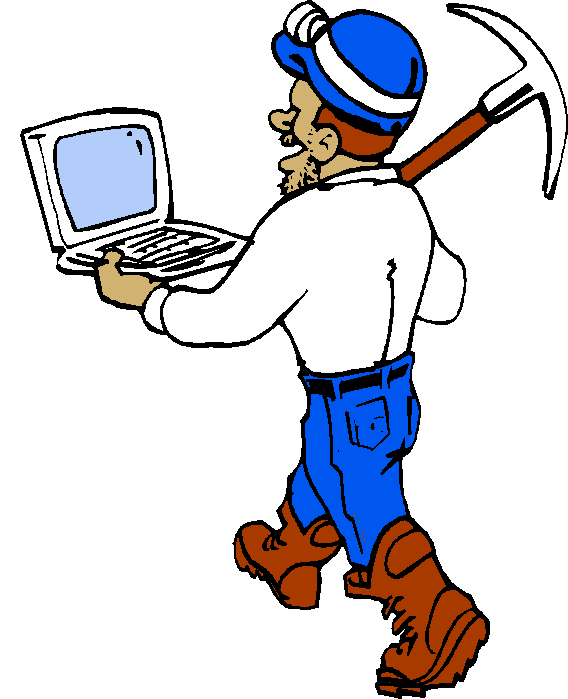 News From Other Clubs

A Simple Tip
To tell if a chunk of likely looking resin is really Amber, make a saturated solution of salt, and drop your suspected piece in to it. True Amber will float; Most of Amber look-likes will sink. How specific is Specific Gravity? Very. Ted Robles _Mountian Gem_


Trying to replace silicon valley with diamonds.
In addition to trying to create diamonds suitable for the jewelry industry, synthetic diamond manufacturers have been trying to get into the computer chip business and replace the silicon based chip. There is a race on to create a diamond semiconductor that could replace a one-inch silicon chip with one the size of a pinhead - that runs hundreds of times faster. Synthetic diamond is created in the laboratory - with the identical characteristics of natural diamond - and is not to be confused with diamond substitutes or imitation diamond.

ROCKWOOD GEM & MINERAL SOCIETY Minutes.... MARCH 24. 2000

The meeting was called to order.
The minutes were accepted as printed in the bulletin.
Treasurer's report - none

Programs announced:
April - Professor Robert Dymek
Igneous & Metamorphic specialist on "Geology of National Parks"

May - Dr. Douglas Wiems
Earth Quake specialist on "New Madrid & House Springs anticline & Dupo monocline".

Sept. - Dr. Bob Osborn
Field Geologist on "Mammoth Caves".

Oct. - Dr. Mike Fuller

Nov. - open for club

Dec. - Christmas Party

August 18, 19 & 20, 2000 - Midwest Federation Show at Queeny Park. Club members are encouraged to put in displays. This would help clubs income.

Field Trips - Shefilers on April 15
on your own to Gravel Bar at Chain of Rocks

A motion was made, second, and carried to meet on the 3rd Friday of the month at Daniel Boone Library. This is providing that we can get the library's approval for scheduling, r

Meeting adjourned.

Matthew Parrott was the attendance prize winner.

Respectfully submitted,
Joan Schlichter, for Helen Heitland