ROCKWOOD ROCKHOUND NEWS for NOVEMBER 2000


This month we will have another "SHOW & TELL". Bring something interesting to share with the other members. It can be anything--special rocks, minerals, slides, videos, an interesting technique. Anything goes!

ELECTION TIME AGAIN!
The National elections are over finally! Now, we need to once again elect new officers. Why not think about serving in some capacity for a year? We need volunteers for the nominating committee as well as people to be officers.

COMMENTS, ETC
We all enjoyed Dr. Fuller (dressed as a Viking this year) as he discussed his discoveries at Tell Tuneinir. He started this project 13 years ago because the area was to flooded by a new dam. The dam has been completed but the area has not had any rain for the last 24 years so it looks as if the dig will continue another year at least. Dr. Fuller has been coming to speak at our club for at least 10 years.

We still need people to work at the the Science Center during time that the Association has the Rock, Mineral and Fossil display. This will run between Nov. 13-19. Call Bob Morse at 636-462-4423 if you can find an extra couple of hours in your busy lives.

Bob Morse has been doing an excellent job giving programs to school children. He has nine programs scheduled in the next two weeks.

Claudia Uccello worked with Den Two of the Cub Scouts at Carmen Trails Elementary School in the Parkway School District. We worked on a geology field badge and took a field trip to Fishpot Creek to look for fossils.


Mary and Alan Parrott are proud to announce that their daughter, Beth, will be getting married on May 5, 2000.

| | | |
| --- | --- | --- |
| | Rockhounding the Internet | |
| | by David Miller – St. Louis Mineral & – St. Louis Mineral & | Gem Society |
Sometimes it seems that when you start a research project you wonder if you will have enough information to present your topic. But so far I must say that the shortage has not been information on the Internet, but in the space I have to share my topics with you. Again what seemed to be a fairly simple topic has turned into a topic full of turns. And so this month I'd like to share with you an interesting family of minerals called:

" The Garnet Group"

Historically, some accounts and findings lead us back to around 3100 B.C. where Egyptians wore garnet beads and inlaid jewelry. The garnet crystals in rock seemed to remind the earliest scientists of the seeds in the pomegranates. And so the word "garnet" is derived from the Latin term "granatum", which has the meaning "pomegranate." It wasn't until the 13th century that the name "garnet" was officially put to use by a German named Saint Albertus Magnus (1206 – 1280), a.k.a. "Albert the Great," and "Doctor Universalis." He was known as a scientist, philosopher, theologian, preacher, church administrator, and an influential teacher and student of alchemy and chemistry. The complete life works of St. Albertus Magnus, "

Opera Omnia " comprise thirty-eight quarto volumes published from 1890 - 1899. It is here in a treatise titled "Mineralium" that he coined the term "garnet" which we use.

Garnets are commonly formed in contact metamorphic deposits in crystalline limestones, pegmatites, serpentines, high temperature intrusive contacts and vein deposits. They commonly occur with up to 33 different associated minerals. Garnets belong to the Silicate sub-group called Neosilicates. They crystallize in the isometric system and can develop quite large and well-formed dodecahedral and trapezohedral crystals. The chemical formula of a common garnet is:

X

3Y2(SiO4)3

where

: X = calcium, magnesium, ferrous iron, manganese Y = aluminum, ferric iron, chromium, titanium

The Garnet Group is broken down into 6 individual members as follows:

3Al2Si3O12) – deep red to nearly black.
Varietites: - Rhodolite – rose red to violet - it's a
mixture of pyrope and almandine.Synonyms: - Adelaide Ruby, American Ruby, Arizona Ruby, Australian Ruby, Bohemian Ruby,

California Ruby, Cape Ruby, Colorado Ruby, Elie Ruby, Montana Ruby, Rocky Mountain Ruby,

and Carbuncle.

2+3Al2Si3O12) – deep red to reddish-brown, occasionally with a violet or brown hue.
Varieties: - Common Garnet – brownish-red, opaque.

- Precious Garnet – deep red, transparent.

Synonyms: - Alamandine, Almandite, Oriental Garnet, Alabandine Ruby
3Al2Si3O12) – brown, orange, pink.
Varieties: - Grape Garnet – purplish-red to violet - it's a
mixture of spessartine and almandine

recently discovered in India.

Synonyms: - Spessartite, Malaia Garnet.

3Al2Si3O12) – colorless, white, green, yellow, pink, brown, orange, orange-red.
Varieties - Hessonite, Essonite, or Cinnamon Stone – orange to orange-brown, transparent.

- Tsavorite – emerald green, chromium-rich.

- Leuco-garnet – colorless, transparent.

- Rosolite – light pink.

- Imperial Garnet – light pink, transparent.

- Raspberry Garnet – raspberry-red.

- Gooseberry Garnet – light greenish-brown.

- Massive Garnet or South African Jade– light green mixed with white, green, and pink.

- Hibschite and Katoite – form of Hydrogarnets – colorless, white, light grey, brown, or pink.

Synonyms: - Grossularite, Wiluite.
3Fe3+2Si3O12) – red, green, yellow, brown, black, rarely colorless.
Varieties: - Dematoid – emerald-green to green.

- Topazolite – yellow.

- Melanite – opaque black or dark red, lustrous.
3Cr2Si3O12) – emerald green - rarest of garnets.

The Garnet member group is then subdivided into 2 lesser groups:
Pyralspite series
– garnets containing Al
2 as their 2nd element – Pyrope, Almandine, Spessartine.
Ugrandite series
– garnets containing Ca3 as their 1st element – Grossular, Andradite, Uvarovite.

The reason for these 2 subgroups is due to the fact that the elements within each individual series freely intermingle among each other. But they do not crossover between the 2 groups.

Which in turn gives us the rare species of garnet that illustrates its wide range of substitution that occurs in the garnet's crystalline structure:

Hydrogrossular, Henritermierite, Goldmanite, Kimzeyite,

Knorringite, Majorite, Schorlomite, and Yamatoite.

Garnet has its classic use as a gemstone in jewelry. It is the birthstone for January. But with a hardness factor of 6.5 - 7.5, it has been used since 1878 (Henry H. Barton, founder of Barton Mines Corp.) as abrasive sandpaper called "Garnet paper." Garnets are also used for abrasive blasting media, water filtration, waterjet cutting, and abrasive powders. The United States is the world's largest consumer of industrial garnet. In 1999 the U.S. consumed 43,900 metric tons of industrial garnet.

But Garnet has had some other interesting uses from days gone by. To many people garnets symbolized such things as fire, faith, truth, grace, constancy, and fidelity. They have been etched with a figure of a lion and worn by travelers for protection. It was also worn to ward off insects, demons, phantoms, bad dreams, evil intent, thieves and burglars. And it was worn to enhance mental strength. In ancient times garnets were placed in the tombs of the dead as payment to the gods for safe passage into the nether world. Also in ancient Asia and the American Southwest, garnet had been used as bullets, thought to increase the severity of the wound due to their glowing red color. And in 1977 the General Assembly officially named the Garnet (almandine) the state mineral of Connecticut.

Garnets have a large world-wide distribution having been found in Africa, Austria, Australia, Brazil, Burma, Canada, China, Czechoslovakia, Finland, Greece, India, Italy, Madagascar, Mexico, Norway, Pakistan, Ural Mountains of Russia, Scotland, Sri Lanka, Switzerland, and Turkey. In the United States some common locations are: AK, AR, AZ, CA, CO, CT, ID, ME, MT, NC, NH, NM, NV, NY, PA, UT, VA, and VT.

One of the things I found very enlightening was the similarity of garnets to other gemstones. I was once told in school a phrase that is very appropriate here, and that is "

Caveat Emptor " or buyer beware! Here is a list of garnet types that can sometimes be passed off as different kinds of gemstones:

Red Garnet
– ruby, spinel, rubellite, carnelian
Green Garnet
– emerald, tourmaline, hiddenite, zircon
Yellow-green Garnet
– peridot, chrysoberyl, heliodor, topaz
Orange Garnet
– topaz, chrysoberyl, golden beryl, zircon, citrine, spinel
Pink Garnet
– rose quartz, kunzite, spinel, tourmaline, topaz, morganite, pink sapphire
Massive, compact grossular Garnet
– jade, californite

Although this topic can be confusing due to all its details, I hope I have made it a little clearer. For further information on this complex mineral I refer you to the following Internet links:

The Mineral Gallery -

http://mineral.galleries.com/minerals/silicate/garnets.htm
The Gemstone Organization - http://www.gemstone.org/garnet.html
University of New Brunswick - http://www.unb.ca/web/courses/geo12142/2142SYL.html (click on lecture 13)
State of Connecticut - http://www.state.ct.us/emblems/mineral.htm
Saint Albertus Magnus - http://www.newadvent.org/cathen/01264a.htm
The Mineral and Gemstone Kingdom - www.minerals.net/gemstone/gemstone/garnet/garnet.htm
USGS Pubs. "2000 pdf" – http://minerals.usgs.gov/minerals/pubs/commodity/garnet
USGS Pubs. "Garnet" - http://minerals.er.usgs.gov/minerals/pubs/commodity/gemstones/sp14-95/garnet.html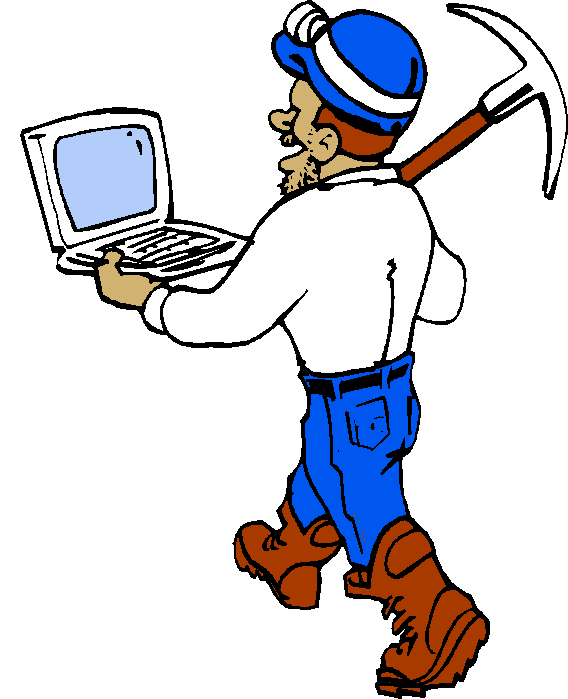 "AN ACTIVE ELDERHOSTEL"
After our mail came, the latest Elderhostel catalog was quickly reviewed. Several days later Hank checked it out in more detail-marking the ones that included our interests and that weren't too far away.
Then it was my turn for approval (sort of). None he had marked enthused me a great deal. So I looked in the back of the catalog under "active Elderhostel"
That's when I spotted the words Michigan Tech., Seaman Museum, Copper, Upper Peninsula and Rock Hound Heaven.
I showed Hank what I found.
Our decision was made. Joan
"ROCK HOUND HEAVEN"
"Houghton, Michigan is the ideal place to take a vacation", said a church member. This member had attended Michigan Tech., home of the Seaman Mineral Museum at Houghton, in past years.
While we had plenty of time, we didn't want to do any big city driving, so our route by passed Chicago going through central Illinois to Hy 45 in Wisconsin. One overnight stop was made at Wausaw. Driving through the north woods on an early morning was a new experience. This was our first trip to the U.P. As we drew nearer and nearer to Houghton more and more small clear lakes and old mining areas were seen.
Our home for the next nine days was going to be at Michigan Technological's main dorm building which is five stories high and two blocks long. All of our group of 19 persons were in one wing. As this was still part of the summer break, our group just about had the building to ourselves. We were given meal tickets to be used at the students main lunch room which was two buildings away.
Day one was an all day mineral collecting trip to the Centennial Mine, Cliff Mine and Laurium Mine dumps where eleven minerals could be found. A box lunch was had at a park near a Lake Superior beach. After eating most of the group walked the beach for agate collecting. While few Lake Superior agates were found, everyone had a good supply of Copper, Adularia, Epidote and Prehnite. Of the 19 people in our group, only about 8 were serious collectors, so when a stop was made at a dump that had a large pile of drill cores, they all had a ball. All the cores were multicolored with white, red, green and pink rock and some ;with copper. Our two guides were able to I.D. most of the rock.
The next day the group was taken on a historical field trip. Our leader used a tour guide he had just published. Most of the main towns and head frames along the copper belt were seen as well as the retelling of their history. That night we were taken to the Calumet Theater, an historic Opera House, to see a live performance called "Boomin Copper". In some of the towns our vans stopped so various old mine buildings, mine captains homes and churches could be viewed.
At the southern end of the copper belt is the town of Mass. This is where the Caledonia Mine is located. The Red Metal Explorations is now using this mine for private specimen collecting. Our group was being treated to an underground collecting experience. As we arrived early, some time was spent looking about the dump. It took some time to get suited up with battery packs, hats, lights, jackets and belts.
Everyone was able to break out a supply of copper in matrix and datolite. Unless the copper was in sheets or protruding outside the host rock, one really didn't know what one had because everything was covered in fine dust. In cases where you found a fist size rock that felt like it weighed forty pounds, then you knew you had a good one.
This day lunch was had at a restaurant in down town Mass. Most of the group ordered Pasties which is a local favorite in this area. It's a meal wrapped in a light crust that many of the miners took into the mines for lunch,
Day four was Keweenaw tour day. Some of the gang wanted to pick up some more drill cores, so we stopped at Calumet, Iroquois Mine for Prehenite with Copper, the Central Mine and Ghost Town.
The Central Mine opened in 1856. It was worked until 1898 all by hand tools. After
1907 the inhabitants began having reunions every year. The old church and a few other homes are still standing or are being put back into their original condition. Many fourth and fifth generation descendants of the miners still come to the reunions.
Leaving the dump we continued north to Eagle Harbor where lunch was had at a roadside park. There was a light house there at Eagle Falls. The Harbor was one of the main shipping points for copper.
Proceeding still farther, we came to Copper Harbor, which was another copper shipping point. There were several museums and an overlook to see. The town itself had many old buildings. After viewing everything we headed back. The road followed the Lake Superior beach in many spots and gave us many fine views of the rolling waves hitting the rocks.
Later in the afternoon we were going to take a sunset cruse to one of the light houses across a bay and I was expecting to get some great photo shots. It didn't happen. The sky turned to dark clouds. Soon a heavy mist rolled in. There was no sunset to be seen, but we did see the light house.
There are two large lakes in the copper mining area. They are Portage Lake and Torch
Lake. Because most of the copper mine stamp mills required lots of water, almost all the stamp mills were located by a lake. After stamping, a lot of black sand was flushed out of the mills and into the lake. There was still a lot of copper left in the sand but in the early years the mines didn't have the knowledge of how to recover it. It was not until the 1920 that this knowledge became available and by this time the sand was 150 feet deep and covered 300 acres. After two huge gold dredges were shipped in from out west a new recovery started. It was a second boom time for the
mines. One of the two dredges can still be seen where it sank in shallow water
Day five-all morning was spent in class rooms and labs at Michigan Tech. where we had a
class in basic mineral I.D. given by the assistant curator of the Seman Mineral Museum. A lab tour and talk was given by the museum director. He showed us some of the Universities top machines used to make mineral I.D.'s and gave us working demonstrations of how it's done.
After lunch we were all taken to the Quincy Mine. It sets on top of a high hill overlooking Houghton and can be seen from all over town. The large mill complex sets at the bottom of the hill on the portage. Many of its buildings are 100 years old. The portage was drug out so that copper could be loaded at the mill and be shipped out all the way accross the peninsula
One of the most striking things about Quincy is all the red brick and stone buildings still standing. Ones first stop is to the visitors center which is one of the old buildings. There one can buy gifts, specimens of history books or watch a video about the mine. Stop number two would be to the hoist house to tour its displays. The main attraction is the worlds biggest hoist. It had 11,000 feet of wire rope that rolled off a 30 foot high ball drum and pulled copper ore from 92 levels. After this tour one can sign up for the underground tour. For this you hop aboard a tram that takes you to the bottom of the hill to an adit. From there you board a cart that takes you inside. The guide driver explained basic mine operations and different drills displayed in a side chamber.
After all the tours Joan and I walked around the extensive grounds. There were a few frame miners homes still standing, several railroad engines, a stone general office building what was built in the 1800's and the machine shop building, which will at some later date become the new quarters for the Seaman Mineral Museum.
The elderhostel ended the next morning. There were a few of the group staying over some extra days. Most of us expected to tour the mineral museum.
The collection was very vast and covered all areas of the mineral world. One could spend five hours viewing it. They had a few benches and chairs around which were needed after hours of viewing. I'm not about to try to describe the displays. I have to say if you like crystals this museum is a must see collection.
That night 8 of us went out for dinner at a good restaurant nearby and talked about some of our other elderhostels.
The next morning was Sunday and we stopped at the Quincy mine again. It was too early so we walked through part of the dump that was on property that the highway department was using for a road fill supply. This was the first day of the Red Metal Retreat and some of their participants were meeting here. I still wanted to trade off the material we had brought with us.
We had passed several people that had outside stands with minerals for sale during our other tours so we decided to drive north and check them out. At the first stand we were told that we had all junk that could not be sold. At the second stand, which we almost did not stop at, the person said we had the best minerals he's seen. He wanted them all. It made us feel better. After we picked out some of his copper specimens we continued to talk. Two additional times he told us to take some more of his material. He also said he had worked for the other guy at the previous
stand. It turns out that no one locally liked this person. This made our day.
It was a great trip. Hank

ROCKWOOD GEM AND MINERAL SOCIETY MINUTES OCT.

The meeting was called to order at 7:00 P.M. BY PRES. Bob Morse. There were 18 members and 6 guests present. The Secretary's report was accepted as printed in the bulletin. The Treasurer's report was read and accepted. The show at QUEENY Park was discussed. Andrew Larson said about 1822 people attended. HE THOUGHT about $2500.00 profit was made. Bob Morse said it was a very successful show. A field trip is planned for the Chain of Rocks bridge area for October 21.
OLD BUSINESS none
NEW BUSINESS We need a nominating committee for new officers.
HANK SCHLICHTER has two display cases for sale.
Helen Heitland sold the clubs typewriter for $25.00. She gave the check to Andrew Larson.
The meeting adjourned.
A door prize was won by one of our guests Mathew Gal. The Other one was won by Joan Schlichter.
Dr. Fuller gave a wonderful slide show and explanation of his dig in Syria this summer. He had a very successful dig and plans to go back next summer.
Respectfully submitted Helen Heitland, Sec.