ROCKWOOD ROCKHOUND NEWS for June, 2001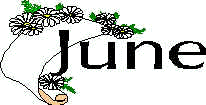 September Field Trip
We are still interested in getting a group together for the Midwest Federation Show at Rice Lake, Wisconsin on September 7-9, 2001. So far we have five members interested. We should probably firm up our reservations pretty soon. Check out the Chamber of Commerce's web page (www.rice-lake.com). If interested, contact Claudia Uccello at 314-434-4831.

June 2001
Since many of us are traveling all over the country this summer, this e-mail from`AKS Gem & Jewelry shows might be of interest.

Dear Rockhounds:

We would just like to inform you of our show schedules. Perhaps some of your members may have an interest in attending our gem, jewelry, rock, mineral & fossil shows.

July 26, 27, 28, & 29, 2001 ~ Franklin, NC


September 6, 7, 8, & 9, 2001 ~ Tucson, AZ


February 2 thru 16, 2002 ~ Tucson, AZ


May 10, 11, & 12, 2002 ~ Franklin, NC

They can get specific information by visiting our web site: www.aksgemshows.com

Thanks,
AKS

Comments, Etc.
Don't forget that the Association show at Queeny Park is coming up on August 17-19. We need all kinds of workers: Set up, pull down, hospitality, exhibitors, and admissions table. Our club is in charge of the admissions table. Call Dianne and Andy Larson at 636-256-0241 to sign up to work a shift. Remember that the profits of the show are divided up by the amount of work each club does.

Our next club meeting will be on September 21, 2001. The newsletter will resume in September.

Our June meeting will be held on Saturday, June 16th instead of the usual third Friday of the month. We will finish out the year with a picnic.

Picnic
Our annual picnic will be held at Claudia Uccello's house on Saturday, June 16th from 3:00 to 6:00 pm. Bring your swim suits, a chair and either a vegetable, salad or dessert. The club will furnish the meat. If the weather doesn't co-operate, we will eat and visit inside. Call Claudia at 314-434-4831 to sign up.

Bring Pictures for Roy!


Minutes of Rockwood Gem and Mineral Society meeting
May 18th, 2001

Dianne Larson opened the meeting at 7:15, welcoming a couple of guests for the evening, Martha Cottrell's mother and another visitor, Caleb Simkoff. Caleb showed us a Russian specimen he brought with him.

Andy gave the treasurer's report
Income of $40 from dues
Expenses:
$57.72 newsletters and fliers
$45 science fair
$25 speaker honorarium

Balance in the treasury $4237.94

Upcoming dates in the newsletter were emphasized as well as some highlights from the recent AFMS newsletter. Everyone was encouraged to wear name tags. New ones have been made for recent club members.

The date of June 16, from 3-6 at Claudia's was set pending okay from Claudia. A sign up sheet was started for potluck items of vegetables, salad and desserts. The club provides the meat. Call Claudia to see what is yet needed and let her know if you are coming.

Roy Cottrell showed us what he has done to put photos for a club history on his lap top. They look great! Please see that Roy gets any photos you may have of members and try to have the

names on the back for identification, also your name for returning purposes.

Hank did a presentation on Mica and brought in some specimens for display. These are always a highlight of the meeting.

Dianne will call members to set up times at the admission table for the August 17-19 show. Keep these days available both to work and see the show. It is at Queeny Park.

We had ten in attendance, 8 members and 2 guests.

Our speaker for the night was Dr. Jeff Gillis from Wash. U. and he spoke on lunar geology. We learned more about the moon than one could fathom! Quite a fascinating talk. Roy said that he had drawn up some of the maps for one of the Apollo flights.

Meeting was adjourned at 9pm.

submitted by Dianne Larson

Polished rock cabs for sale
My father-in-law was a rock hound. He dug all over Idaho and Oregon. He and my husband have both now passed on. I have many finished & polished rock cabs (mostly agate) that I would like to sell. Since I am not "in the business", I really don't know a fair asking price. I know they are worth some money, but am not looking to get rich. If you are interested, please contact me.

Lynn Chaney
P. O. Box 291
Fort Scott, Kansas 66701-0291
e-mail Lynn@hotmail.com

News from Other Clubs

Pyrite & Marcasite Decomposition

Excerpts of a talk by Frank Howie on Unstable Minerals

The Geological Society (UK)
Under appropriate conditions many pyrite and marcasite specimens will decompose into a gray or white powder and sulfuric acid. This not only leads to the loss of the specimen but can damage cabinets and affect near-by specimens by the release of acid.

The process of decomposition is oxidation. FeS2 oxidizes to ferrous sulfate and sulfuric acid. It has been held that bacterial action is necessary for the oxidation of the sulfide to occur under normal environmental conditions. Frank Howie has investigated the chemistry of this process over a number of years and had conducted many controlled experiments. He concludes that bacterial action plays no part at all, so antibacterial treatment of specimens is useless.

The essential condition is exposure to air at high relative humidity. At an RH of less than 50%, very little decay of pyrite occurs. At around 55% RH the rate rises rapidly and continues to increase as the RH nears 100%.

Some pyrite appears to resist the attack when all around disintegrate. Scanning Electron Microscopy has shown that the attack starts in regions having microcrystalline structure. If the structure has crystallite size in excess of 10 um, the crystallites will be angular and packed. Below 1um the crystallites are rounded with open interstices giving a microporous structure. This acts like a sponge and provides a path for the moisture ingression at the start of the decay process. Similar decomposition occurs in many other sulfides, e.g. Arsenopyrite, Realgar, Chalcocite, Stibnite and Argentite.

The remedy is the keep in specimens in an RH below 50%. This is generally achieved most of the time in a cabinet having close fitting doors situated in a living room environment. To ensure full-time protection the use of silica gel as a desiccant in suggested.

Ed. note: Since humidity is such a problem in St. Louis, the above article is helpful for us.

Did the Louis and Clark Expedition Discover Mozarkite at Rocheport?
One version of William Clark's journal for June 7, 1804 describes their landing and encampment near the mouth of the Big Moniteau Creek, the site of present day Rocheport. Their comments were "a short distance of the mouth of this creek are several paintings and carvings in the projecting rock of limestone inlaid with white, red & blue flint, of very good quality, the Indians have taken of this flint great quantities." (The CMRLC editor knows of no subsequent mentions of this colorful flint in the Rocheport area, although some have suggested that the cliff and flint bearing outcropping was destroyed when the railroad bed and tunnel were cut through just upstream from Rocheport.)

Shortly following the declaration of Mozarkite as the official Missouri state stone, Willis Smith published and interesting and comprehensive article on Mozarkite in the 1968 Lapidary Journal where he also noted this interesting entry in Clark's Journal. Willis also points out that Mozarkie or its equivalent is found at a wide variety of locations other than the classic location near Lincoln, Mo in Benton. Co.

Perhaps with the approach of bicentennial of the expedition and the enhanced interest in their journey through Missouri and the encampments near Rocheport someone will find some of this flint.

Mozarkite in the Lincoln, Mo area is found associated with the Cotter Dolomites while the bed rock at Rocheport is the Burlington Dolomites of a different age.


As a Rockhound Sees It

Sheer Luck - someone else's good find
Hard work & Brains - your own good find
Greed - someone else's large quantity of one specimen
Foresight - your own large quantity of one specimen
Stinginess - someone else's refusal to share good rock locations
Shrewdness - your own refusal to share good rock locations
Bunch of junk - someone else's collection
Museum pieces - your own collection
Botched up job- some one else's first lapidary attempt
Promising beginning - your own first lapidary attempt.

via: Cross Timbers Talks, 9/89

Tidbits
Field Trippers, use plastic jugs (milk, bleach, etc) for rock holders. Cut off the neck, leaving the handle. Location of your finds can be marked on the jug with a magic marker. The plastic jugs are not harmed by dampness or dirt.