Rockwood Rockhound News

2003


---

Once again, the Larsons have graciously offered their home for the Christmas party. The club will furnish the meat while members will sign up to bring either a salad, vegetable or dessert . If you aren't already signed up, please call Dianne at 636-256-0241 to let us know what you are bringing.
Instead of the gift exchange, we are to each bring a canned good for the Circle of Concern.
This part is always so much fun! Besides the good food and great company, we find out how very talented our members are. See you there!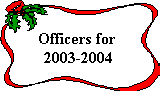 We are happy to announce that our new officers for the coming year will be as follows:

President: Dianne Larson
Vice President: Hank Schlichter
Treasurer: Bob Morse
Secretary: Marianne Toenjes

Bob and Marianne are returning for another year. Our thanks go to Joan Schlichter and Peggy Nuske who are retiring as president and vice president. Let's all get behind our officers and help them out. We still need an Education Chairman and a Coordinator since Hank and Dianne now have other duties. Won't you volunteer? .

Don't Forget!
Dues are due.
Comments, Etc.
In order to keep all our members up to date, we have added a new feature--a Recap of whatever we did the past month. Let us know if you like it or not.
Since your editor is a completely right-brained thinker and processor, it might be interesting to see if she sees things the way that other members do.



November's Meeting


We learned a bunch of fascinating trivia by watching a movie on silver mining in Virginia City, Nevada.
We learned that the miners were throwing away silver while hunting for gold. Finally someone took a sample of the "blue mud" they were mucking around in to be assayed and this led to the finding of the Comstock Load. (Trivia: Frank Comstock was a lazy nere -do- well who was trying to fleece two miners out of their hard work by telling them that he owned the land they were working. The two miners decided rather than fight it, they would just make him a partner.) This vein of silver turned out to be 1/2 a mile wide and 70 miles long! Eventually it was mined down as deep as 2000 feet where the temperatures were up to 130 degrees Fahrenheit! With this discovery, Virginia City entered 25 of the wildest years possible and experienced a revolution of mining industry, introduction of the railroad and grew to be the largest city between Denver and San Francisco. (Trivia: Mark Twain was a reporter there.) By the late 1870's after several people made their fortunes, the boom was all over.


November's Field Trip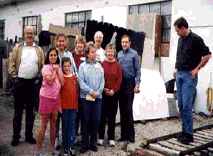 (Pictures by Eleanor Stuut)

On November 22, Jonathan Wilmoth(far right), of Midwest Marble & Granite Co. on Old Meramac Station Rd. gave us a tour of his plant. We were able to see where the marble and granite were stored, how the huge slabs were moved, cut and polished. We also saw some of the beautiful desks, counter tops,

dining room table a even a birdbath made of the stones. It was fascinating to see all the varieties of marble and granite they have in stock. We were interested to learn that anything of the quartz-feldspar mixture is considered to be granite. As we walked into the front door of the showroom, there was a large slab of granite containing labradorite. Your editor is playing with the idea of new kitchen counters out of it.The icing on the cake was at the end when Jonathan invited us to go "dumpster diving"! All the kids--young & those in their second childhood, climbed right in. Bob Morse had to take three trips to get all his material back to the car. Thank you, Jonathan, for taking your Saturday afternoon to educate us.
Welcome New Members
We are so happy to have Karen Noss and her eight year old son, Nate, join our club. Karen is home schooling Nate. Since Nate is extremely interested in rocks, minerals and geology, they decided joining a rock club might be the way to go. The Noss's are natives of St. Louis and are living in Wildwood. Karen has a degree in Occupational Therapy and Audiology. Her husband is in International Business. We are so glad to have them as members.
News From Other Clubs
Prized Bruneau Jasper

Did you ever wonder why you see so little Bruneau Jasper and why it is so costly? It is only found in Idaho's Bruneau Canyon and occurs only in one area along the steep walls of the canyon. Bruneau Jasper has beautiful designs and ranges in colors of red, tan and brown. It is a pleasure to work with and polishes to a high luster. The claim where it is found is privately held and permission is rarely given. (ll/03)

Did You Know?
There are birds nests made of volcanic glass. At least three species of birds in Hawaii National Park are known to build their nests from spun volcanic glass. Droplets of lava squirt into the air and then solidify in filaments known as "Peter's Hair." Thousands of delicate fibers are used by birds in building a single nest. (Via Quarry Quips 6/03)

Smile

If you carry a dubious rock home, it'll be a "chuckite."
If you throw it away, it'll be the only specimen of the rare mineral the club needs.(Via The Trilobite)

Rockhound Riddles
>From Achates 9/67

1. Name a likable rock.
2. What mineral is always hungry?
3. How do geologists measure water?
4. What should all geologists know?
5. What mineral catches thieves?
6. What is an opening to a fence?
7. How do you keep a boat from drifting?
8. What vegetable is used for weighing gemstones?
9. Where does a skeleton sleep?
10. Name a citrus rock.
11. What is a teenage snake?
12. A through F paid. What about G?
(Answers below)

Have you reached the age of minerals? You know--gold in your teeth, silver in the hair and lead in your feet! (Via: Rocky Reader)


MINUTES OF NOVEMBER 20 MEETING OF THE ROCKWOOD GEM AND MINERAL SOCIETY

The meeting was called to order at 7:05 p.m. by president Joan Schlichter.

Hospitality chairman Helen Heitland reported 16 members and 1 guest, Robert Barker, present.

Secretary Marianne Toenjes read the minutes of the last meeting which were approved.

Treasurer Bob Morse read the financial report. He said he wrote a check for $80 for library rental for next year. He called attention to the link to Mike Fuller on our web site.

Coordinator Dianne Larson said she would circulate a sign-up sheet for the Christmas party on December 7. Dianne suggested canned goods donations for the Circle of Concern at the Christmas party instead of exchanging gifts. Page 5
A sign-up sheet will also be circulated to order name tags.

Editor Claudia Uccello had no report.

Education chairman Hank Schlichter had no report. Three people reported attending the 46th annual St. Louis Mineral and Gem Society show at the Stratford Inn.

Historian Eleanor Stuut had no report.

Bob Morse reported attending an association meeting near Rockford, IL. They are trying to put programs on DVD instead of slides. The association made a $3200 profit from the last show. They will distribute $2700. Our club will get 25%. Attendance at the show in August was down 4% according to Barbara Sky.

Field trip chairman Andy Larson announced that the Midwest Marble and Granite Co. will be the destination of the club field trip Saturday November 22 at 12:30 p.m.

Telephone chairman Joyce Erard had no report.

The nominating committee announced a slate of Dianne Larson, President, Hank Schlichter, Vice President, Claudia Uccello, Editor, Marianne Toenjes, Secretary and Bob Morse, Treasurer. The nominations were unanimously approved.

New Business: Barbara Sky picked up copies of the Program Planners Guide at the Midwest Federation meeting at Cottage Grove. Next year's show will be in Cedar Rapids, Iowa in April 2004. Bob Morse suggested the club sponsor a trip there for our members.

The attendance prize was won by Barbara Sky.

New members Karen and Arthur Noss were introduced.

The meeting adjourned at 7:30 p.m.

Submitted by Secretary Marianne Toenjes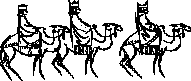 | | |
| --- | --- |
| 1. gneless | 2. apatite |
| 3. with quartz | 4. their faults |
| 5. copper | 6. agate |
| 7. ankerite | 8. carat |
| 9. in a bone bed | 10. limestone |
| 11. serpentine | 12. geode |